Posted on February 8th, 2018 in Fortnite, PixelPub Community, PixelPub News by Bloodrave120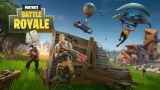 Our community strives to provide fun and rewarding experiences in and out of game. We provide a friendly and respectful atmosphere for all games and gamers. We invite you to be a part of our community and squad up with other members. This will be a great opportunity for new leadership within our large community. Want to be part of something bigger than just a team? This is your chance.
Recruiting all players, all platforms, all skill levels!
Looking for friendly and helpful leaders!
Recruiters
Squad leaders
Streamers / Community leaders
Join our Discord and join the party bus!